about the 7th Festival
The seventh Festival is over for 6 months now and time has allowed us to measure the impact of this gathering of Traditions. It seems distant and yet so present in our mind and heart.
These four days of celebration and festivity gathered 2000 visitors around 100 ancestral representatives from the five continents.
Joy is still in our hearts to have welcomed such a motivated audience. It is thanks to them that we were able to co-create this international event.
We are proud, but also humble, to be the center of a movement that aspires to love between people.
We are honored by the visit of all these delegations who have crossed the globe to come to Dole in the Jura.
This year, the Domaine Château Bellevue in Dole, the Swiss magazine Recto-Verseau and the French newspaper Soleil Levant supported this event with sincerity, that they themselves were pioneers and visionaries in the spiritual evolution of collective consciousness in the french speaking countries.
Humanity is threatened by the loss of his ancestral memory induced by the disappearance or formatting of the original peoples and uniform « education » of our societies. Our changing world has already lost millions of animals, insects and plants. One language disappears almost every 15 days. Ancient knowledge is gradually erased …
If there must be a major reason for the shamanic celebration, it could be that of resisting at standardization and leveling of cultures and spiritualities.
« Yes to the multiplicity, yes to free and not slave spirituality », told me an African medicine man.
Patrick Dacquay, our traditional chief, had this crazy dream to bring together in 2007, to create a Circle of Wisdom of Ancestral Traditions, to establish a fraternal bridge between all archaic spiritual cultures of the earth and to work together for our future .
Year after year, that dream took shape because nearly 100 different traditions Shamans, healers, teachers in shamanism and artists who represent the five continents answered "present".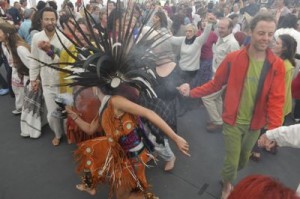 Delegations also spontaneously joined us later with compelling calls received from their ancestors.
More than 250 ceremonies and workshops, 300 individual healings, shamanic art exhibitions and concerts have brought these four days dedicated to Peace and Love feast days.
Everywhere, what we call shamanism, that is to say the original and primordial natural spirituality emerges and wakes up. Consciousness is on again!
We take the opportunity of this letter to honor the contemporaries Men of Peace, such as Nelson Mandela, who was able to embody the dream of bringing together people of different colors in peace. His funerals were a great symbol because no human being ever had gathered so many states chiefs at the same time and the same place.
Other great ones have worked in the same dynamic: Grandfather William Commanda was able to restore peace to his nation and meet others in the same ideal of brotherhood.
It is in their honor that we have created a gala concert that aimed to celebrate the joy, brotherhood and harmony.
This interactive gala concert at Sunday, in honor to Ema'a Drolma Mata and Grandfather William Commanda was a success that brought together 1,000 people.
All together, like children, we let live the joy, dancing and singing.
Shamanism comes from the depths of time and yet it offers a glimpse of an extraordinary lucidity and insight on our world and the dangers which threaten it.
The ancient universal wisdoms are a real source of thought and inspiration for today's society.
Ceremonies, but also workshops, helped to rediscover and learn to practice together, without constraints, in the spontaneity and thanks to our guests who were able to direct them with knowledge and simplicity.
The Movie Festival on Ancestral Wisdoms with screenings of 16 films of high quality, chaired by David Costanzo Allione and David Paquin, was a great success throughout this seventh edition.
The Manifesto of Shamanism, real ethic code of ancient Shamanism Wisdom, written by the Circle of Wisdom, has been expanded and modified during for the 7th meeting.
Hope is on the way, let us be free of our fears.
Hope is passive, faith is active.
It initiates a movement that empowers us all. Because the greatest hope (faith) is that of our transformation and consequently that of our humanity … Today, we are invited to participate in the realization of a new age on Earth where love and peace will finally express themselves in total freedom.
Dixit our brother Elima: « The group supports the individual, the individual grows the collective. »
During these four days, we have experienced a change in shape to pass from the pyramidal system to the circle (but not turning around, at least not on the same level…).
The inner work, proposed by all delegations is part of a larger and universal perspective. It allows us to regain an awareness, that we are sons and daughters of the earth, members of the human family and world citizens.
The search for meaning beyond materialism and re-rooting of the sacred today is an alternative to compulsive consumption and individualism.
Let us open the doors of the collective unconscious, full of dreams and hopes.
Who does not dream of a better world, softer, more conscious, more brotherly?
This meeting, carrier of forgiveness and love, conscience and brotherhood, was the symbol of our biggest hope: That of World in Peace …
What contribution can we be in this world?
To continue to give the opportunity to Westerners to experience the Ancestral Shamanism, without having to cross the oceans, and especially for our brothers and sisters in humanity can return to their own Western Celtic Tradition (or other),
It is with joy that we invite you to attend to our next 8th Shamanism Festival to be held from Thursday 23 to Sunday, April 26, 2015 at Domaine Château Bellevue.
Exceptional Event 2015
From Thursday 23 to Sunday, April 26, 2015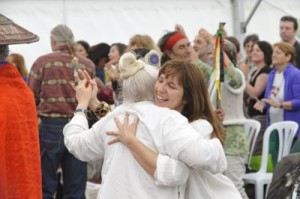 We can already tell you that to the 100 delegations in 2014, will be added some Wisdom holders from other countries:
DELEGATION OF COLOMBIA (Kogi)
Rogelio Mejia Izquierdo.
Ex-governor of the Confederation Indígena Tayrona.
Ethnic Arhuaco, educated by the Mamos.
He comes from « Nabusimake », when the Sun was born.
Nabusimake is the spiritual capital of Sierra Nevada
Ceremonies and special place of Kogi and Arhuacos.
Accompanied by two delegates from Kogi community
Mamos Mayores
(that is to say, the men-medicine of the highest degree).
DELEGATION OF AMAZON
BRAZIL
Chief Biraci, Yawanawa Chief (Amazon).
Represents internationally the Amazonian indigenous.
Actively work against deforestation.
Campaigning for the respect of Indigenous territories.
DELEGATION OF PERU
Queros people
Tupaq Sonqo, Medicine Man.
Member of Wisdom Council of the Queros people.
Musician and filmmaker.
DELEGATION OF REPUBLIC BURYATIA
Nadia Stepanova, shaman.
President of the Association of the shamans of the Republic of Buryatia.
DELEGATION OF THE HOPI NATION
Grandfather Roy Little Sun, Medicine Man.
Adoptive son of Titus, Hopi Chief.
DELEGATION OF HAWAIIAN SHAMANISM
Hank Wesselman, paleoanthropologist.
Bestselling author (many bestsellers)
Introduced to Kahuna tradition (Hawaii).
DELEGATION OF MONGOLIA
Munkhzul Yuanga, shaman.
With a shaman grandmother
It is with enthusiasm that we will all meet at
Thursday, April 23, 2015.
Soon, with our fraternal friendship.
Didier Rauzy,
Spokesman of the Circle of Wisdom
of the Union of Ancestral Traditions