Minthé

Medicine woman, water missionary, from Walloon origin, Minthe has been adopted as her daughter by Grandmother Oh Shinnah Fast Wolf, and received from her the « Woman Warrior Initiation ».
As such, she is now part of the Apache Nation, where she is called « Hatch Oh Neh » (Standing Strong Woman).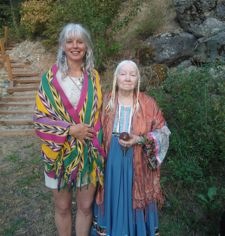 Spiritual warrior, international speaker and teacher,
Master of Ceremonies in the Tradition of Water Carriers,
Minthé is internationally known as « the Water Shaman ».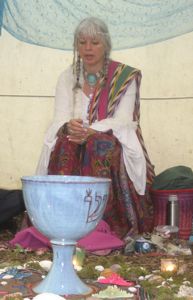 She is one of the Grandmothers of « Sisterhood of Planetary Water Rites », member of the OBOD (Order of Bards, Ovates and Druids), of the Ancestral Shamanism Council and from the Circle of Wisdom Circle of the Ancestral Traditions Union.
Minthe works side to side with C. Michael Smith (Mikkal), Ph.D., Jungian American psychologist, from Cherokee origin.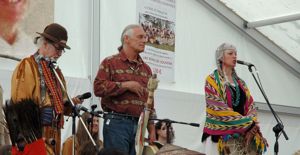 She holds a diploma in Shamanic Consulting, and in « Sacred Breathwork™ », and is now director of « Crows Nest Europa » and responsible for training of students in Sacred Breathwork™ in Europe.
She also participates in the organization of the workshops cycle « Creating the World » of Blue Eagle in France, and collaborates with Dr. Masaru Emoto on the « Emoto Peace Project » in Europe.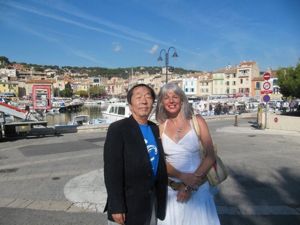 For several years, Minthe gathers and carries with the greatest respect, the Aguas Unidas, the Sacred United Waters from the Earth Mother.
She is the initiator of « Aguas Unidas Project » for clean water in Africa, and created the association « La Caravane des Sources » (non-profit) for the dissemination of teachings about water, conferences, and the organization of free and open for all ceremonies, and the support of various humanitarian and environmental projects.
In this context, she offers initiatory courses in water shamanism, she created and regularly holds women circles « Daughters of the Moon and the Water » and initiatory training for women in the Water Carriers Tradition, and a shamanic basic education for men and women, called « School of 7 Directions » and based on the Native American Medicine Wheel.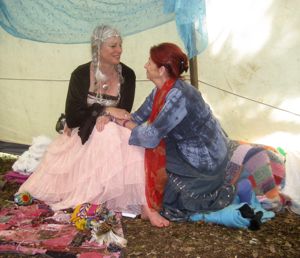 Minthe is the initiator of the project « Be the dance … you want to see in the world! » in support of the Amerindian native people in their struggle for the protection of their rights and of Mother Earth, and creator of the 7 Directions Sacred Dance.
She also led the 8000 Sacred Drums Ceremony in France in 2008, participated at the 13 Grandmothers Council in Spain, Borja, and at the International Meeting around Water in Zaragoza. She guided a meditation for peace in Cogolin, for the 1st « Spring of the Women », organized and guided the ceremony for the Atlantic Ocean in October 2010 in France, Britain, in the presence of Dr Masaru Emoto …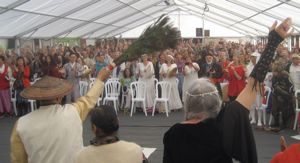 Minthe participated at the movie of Loïc Sallet « Aquanime ». She is co-author of the book « Shamans Feathers » (scheduled for September 2014).
Reiki practitioner and master, she studied the Mayan calendar, and can also accompanies for Zen Tarot reading.
Website : http://www.aguasunidas.com
Email : minthe@live.fr