Bhola Nath Banstola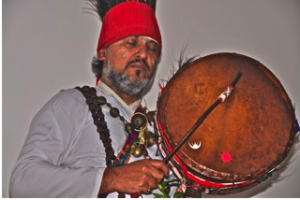 Bhola Nath Banstola was initiated into traditional Nepalese shamanism (Jhankri) at a very young age by his grandfather. He carries the family shamanic lineage of his ancestors for more than 27 generations. Educated in India, he is fluent in English, holds and is a graduate in cultural anthropology and is a Doctor of Naturopathy. Bhola's life is dedicated to the research, teaching and preservation of the Himalayan shamanic tradition including herbal and ethno-medicines which have been used through ages. He travels world wide as a teacher and healer and for six months each year leads treks and cultural groups to Nepal, India, Tibet, Burma, laos, Cambodia, Mongolia, Thailand and Vietnam.
His speciality is teaching shamanic wisdom of his ancestors from two days to several weeks in Asia, Europe and America. He organizes specialized groups to Nepal-Himalayas to teach shamanic healing practices and works as a bridge to connect between the traditional and modern world views. He has been able to introduce his fellow-shaman-jhankris to the outside world.
He is married to Mariarosa Genitrini and they work together in all the fields.
To find out about his publications, teaching schedules, healing practices, pilgrimages and travels you can visit his website at www.nepalese.it. And his FaceBook is baramasta nepalese shaman.
« Bhola is an extraordinary shaman who is carrying down a beautiful tradition that he was initiated into by his grandfather. Bhola is a true example of a shaman who can walk into a room and uplift everyone and transform by his presence of light and love. His teaching style is filled with love, clarity, truth, wisdom, and humor. Everyone I know who has studied with Bhola has loved his workshop. And it is a true gift to receive a healing from Bhola. Do not miss any opportunity you have to work with Bhola!" ~
Sandra Ingerman, author of 8 books including Soul Retrieval and Medicine for the Earth